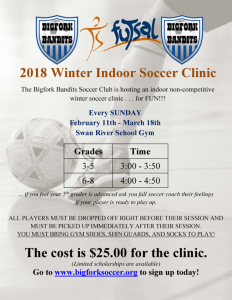 Visit www.bigforksoccer.org to learn more about the Winter Indoor Soccer Clinic, beginning February 11!
BIGFORK MS 6-8 GRADE
TRACK AND FIELD
SIGN UPS WILL BE IN THE OFFICE
MANDATORY PARENT MEETING
March 21 in MS Gym
5:30 pm
PRACTICES ARE SCHEDULED TO BEGIN
Monday, April 2 AFTER SCHOOL
A PHYSICAL & CONCUSSION FORM REQUIRED
You may fax those to 837-7438
The next session of drivers education starts 4/9/2018 and meets M-F at 3:30.  Required parent meeting is 7:00 4/5/2018 in room 215, please bring a copy of the student's birth certificate and Social Security number.
Kindergarten Registration will open on Friday, May 11th.
Please call 837-7412 to schedule your appointment. Children must be 5 by September 10th. Be sure to have your child's birth certificate and immunization record at the time of appointment.